Fall Scarecrow
Students in Mrs. Bourquin's class made a scarecrow that will be displayed in downtown Pitman.
Sentry Patrol Training
Pitman Middle School's Sentry Patrol recently participated in a training session with Sgt. Zander and Cpl. Leach of the Pitman Police Department. During the session students and police discussed the topic of school safety and the role of a student safety patrol. We would like to thank these dedicated individuals for their time and dedication to our students.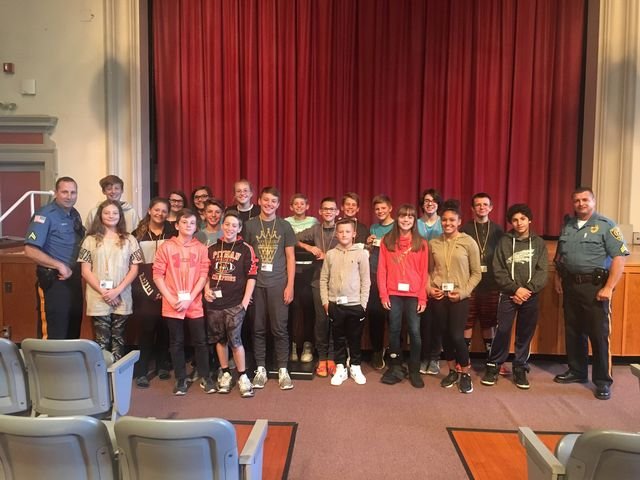 Operation Beautiful
In the first meeting of the year, Operation Beautiful welcomed Miss Pitman competitor Gianna Bradwell. After winning the Miss Congeniality award in last year's competition, Gianna graciously gave of her time to share her thoughts on kindness with the students of Pitman Middle School.
7-Eleven Grant Continued
The 7-Eleven Corporation has recently awarded Pitman Middle School an annually renewable grant for $711.00. The primary goal of this grant is to promote positive student behaviors while establishing a "long lasting" relationship between our school and 7-Eleven. Representatives from Pitman's 7-Eleven franchise have expressed an openness to provide refreshments and other support services for school sponsored events. Assistant Principal, Dawn Bell is the author of this grant.